Schedule
Dance and music improvisation night
Music
w/ Ben Sluijs, Giotis Damianidis, Hugo Antunes, Giovanni Barcella, Ine Claes & Elodie Doñaque
Tuesday 04 November 2014
Ouverture des portes : 20:00
Price : Free!
Location : KultuurKaffee Plan
Crossover performance by four jazz musicians and two contemporary dancers
During this dance and improvisation night the freshly new formed quartet consisting of Ben Sluijs (sax), Giotis Damianidis (guitar), Hugo Antunes (bass) and Giovani Barcella (drums) - four musicians with a broad musical background and open mind- will not only play together for the first time as a foursome, but will also provide on the evening a fertile soil to Ine Claes and Elodie Doñaque with their musical extemporization. Ine and Elodie are two contemporary professional dancers who will act and react on their improvised music.
Find out how the interplay between these two different art disciplines will blend into a surprising and undoubtedly unique audio + visual treat.
Free entrance!
About the musicians: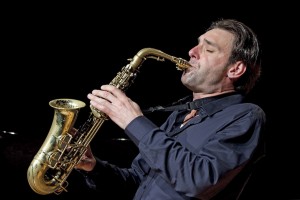 Ben Sluijs - sax
Sluijs is repeatedly described as one of the most lyrical and poetic jazz saxophonists in our country.
Current/former member of .i.a.: The Unplayables, 3/4 Peace, Ben Sluijs & Erik Vermeulen, Ben Sluijs & Tom van Bauwel, Ben Sluijs Quartet, Sluijs Mendoza Vercampt, Ben Sluijs Trio, Brick Quartet, Augusto Pirodda Quartet,Christian Mendoza group…
Giotis Damianidis – guitar
Greek guitarist who lives in Brussels since 2006. He has performed all over Europe with different groups, playing different kinds of music such as free jazz, free improvisation, afro beat, fusion, funk, rock, rembetiko.
Current/former member of i.a.: Act up trio, World squad, Afrosoul messengerz, Trio Amnesia, Fly O97, Duo lexis, Triotiz, Zoula…
Hugo Antunes – bass
Hugo is a double bass player born in Portugal (1974) who at the age of 26 (some may say late) discovered and developed a passion for the bass. Nowadays he lives in Brussels and is an active and emerging improviser, playing from main stream to avant guarde, growing his experience everyday.
Current/former member of i.a.: Scott Fields freetet; Malus; Roll Call 5tet; Sun 7 ; Cornettada; and sharing stages with Nate Wooley, Chris Corsano, Paul Lovens, Tobias Delius, Evan Parker; Rudy Trouvé, …
Giovanni Barcella –drums
Giovanni Barcella plays the drums with Italian passion. He has a big heart for sincere and recalcitrant forms of music.
Current/former member of i.a.:  PJDS, Moker, Backback, Barcella / Van Herzeele duo, Jeroen Van Herzeele Quartet, CO2 Quartet …
About the dancers:
Ine Claes
Ine has studied modern dance at the Amsterdamse Hogeschool voor de Kunsten. She graduated in 2008 and has been working since then in collaboration with different choreographers and visual artists. In 2012 she premièred her piece Riptide, a duet with Aloun Marchal and live music by Sara Claes. Since 2010 she works for the company JOJI INC and since 2012 she's working as a dancer/choreographer on the project Ballets Confidentiels, visual concerts,together with Johanne Saunier.
Elodie Doñaque
Started her career as a trapeze artist and worked with several circus companies before going completely into dance. Lately she is working and dancing on the floor and on the air, and tries to create her own projects, located between dance and circus.
In cooperation with EORA PRODUCTIONS and Nosey Elephant Studios